Steel Pigs
What is a Steel Pig?
Also known as a mandrel pig, steel body pigs are utility pipeline products used for cleaning and sealing in a number of different industries. Steel pigs have steel mandrel bodies and mandrels on the outside diameter, and are equipped with special brushes, polymer discs, or cups.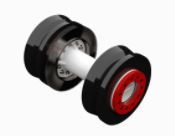 Steel pigs effectively clean the inner walls inside pipelines that transport fluids or liquid products. 
Over time, debris collects inside, leading to clogs, corrosion and a multitude of other pipeline problems. Mandrel or steel body pigs can also be used for sequentially transporting and batching multiple products through a pipeline. Learn more about the applications for scraper pigs here.
Accessories for Steel Body Pigs
The discs and cups create a seal between different products in a pipeline, while at the same time displacing residual water or product (liquid displacement) in the pipeline. Because steel pigs are bi-directional, they can travel either up or down a pipeline for general cleaning or removal of paraffin or black powder.  
Some steel body pigs are equipped with gauge plates for use in gauging pipelines. Specially designed to ensure longevity, steel mandrels are extremely durable. When you need to replace components, it would usually be softer brushes and cups. 
Trusted Source for All Your Pipeline Pigging Requirements
When you need steel body pigs, look no further than Drinkwater Products. 
At Drinkwater Products - your trusted pipeline professional - we offer a wide range of pipeline pigs and pigging products in the widest variety of configurations to meet your specific requirements. 
Not sure whether a mandrel or steel body pig is the right choice for your pipeline? A friendly, experienced pipeline consultant will discuss your requirements and help you choose the best pipeline pig for your next project. Additionally, we will advise on pig part combinations to ensure the best results for your needs.