GPT Flange Isolation Training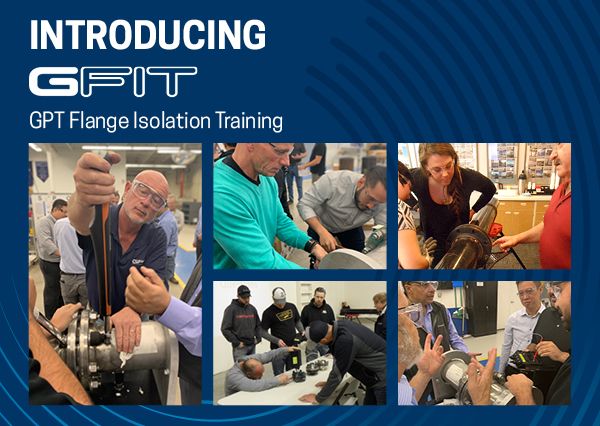 Introducing GPT Flange Isolation Training (GFIT), the world's first dedicated training program for Flange Isolation. GFIT offers participants an in-depth 4 hour session on proper installation techniques for flange isolation kits (FIK's), for field installers and engineers. GPT will train your installers/engineers to correctly install an isolating gasket and explain the critical role of each component required to successfully isolate the flanges for proper corrosion prevention of the system.
In addition, participants will receive hands-on installation training and will learn proper techniques using the correct test meters to accurately check for isolation of the gasket and flanges post installation.
INDUSTRY CHALLENGES - WHY SHOULD I PARTICIPATE?
According to industry failure analysis more than 80% of all gasket failures are due to incorrect user installation. These installation failures can be avoided with proper training and installation procedures.
WHY GFIT?
Many installation programs are available today that teach you how to properly install a gasket, but what do you do when your application requires the flanges to be isolated?
In addition to proper gasket installation procedures, this training program goes above and beyond other programs to provide in-depth training on what additional components and techniques are required to properly isolate your flange connections.
Whether you're field based or office based, we offer tailored training programs to maximize your knowledge and understanding of proper installation methods and flange isolation techniques. This can provide an effective means of bridging the gap between onsite Field Technicians and engineering groups.
Qualified GPT Installer Accreditation
CEU Credits Applicable for Professional Engineers
WHO SHOULD ATTEND?
The GFIT training program is designed for Field Technicians, Integrity Engineers, Corrosion Engineers and those in general engineering roles. The training is designed for groups of 10 or more persons. 
WHAT WILL I LEARN?
Safe procedures for installation and testing
Why an isolating gasket is different than a traditional gasket
Which tools to use and not to use in electrically testing isolation
The correct process for installation of a kit
How to inspect the flange and kit
Typical modes of failure of a kit and how to avoid
Let us help you get started!.