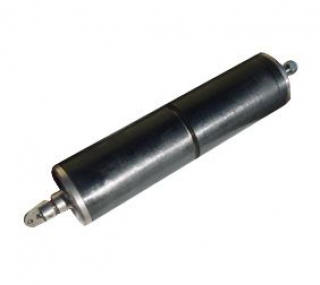 The Spy Pig Tracker is an electronic pig locating system that will locate your pigs wherever they go - through gathering lines, mainline transmission lines, municipal gas, water and waste water lines, refinery and other industrial piping.
Using strong low frequency signals the Pig Tracker system gives you a more reliable signal life. Depending on the model, the Pig Trackers signal can be received for up to 500 hours. It operates on standard batteries - readily available from retail stores. No recharger is necessary.
The Pig Tracker system consists of a cylindrical transmitter which travels with the pig, and a hand-held pick up wand and receiver that receive the signals and inform the operator of the transmitter / pigs location.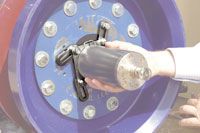 PT 750 Universal Mount Simplifies Installations
The PT 750 universal mount allows you to fit a SPY® PT-750 to most any mandrel-pig bolt circle. As of today, there is no industry standard for the "bolt circles" on mandrel pigs. This can require costly last minute field modifications – wasting valuable time. The universal transmitter mount solves this problem. The mount securely clamps to the midsection of the SPY® PT-750 transmitter. Four sliding adjustments with four bolts enable the transmitter to be fastened securely to most any mandrel-pig design in a matter of minutes. The adapter is reusable.
---
---