Pikotek VCFS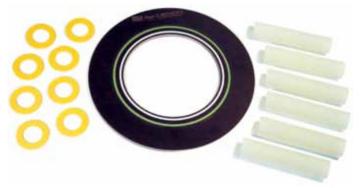 The creation of the VCFS was driven by the demands of our customers who needed to electrically isolate their flanges but worried about the performance of non-metallic components in the event of a fire. This was especially a concern in the offshore market where the consequences of a fire on platforms are very hazardous and costly. Additionally, the needs of users in piping and LNG applications, where the risk of a fire would greatly threaten life and property, drove the need for an electrical isolation seal that is fire safe per API 6FB.
OPTIONS and DATA
Based upon proven VCS platform
E-Ring sealing system is dual purpose providing fire safe as well as backup seal element
Passed API 6FB 3rd Edition Fire Test
Designed to withstand corrosive environments, including high concentrations of CO2, H2S, produced water and aggressive inhibitors
Good electrical isolation properties for cathodic protection
Pressure-activated seals provide high confidence sealing, eliminates costly leaks and provides a solution for fugitive emissions
Mitigates galvanic corrosion in dissimilar metal flanges
Can mate mismatched RTJ with raised-face flanges
Works in Ring Joint Flanges, reducing fluid entrapment, flow induced erosion and media induced corrosion between flanges
Gasket is self-aligning and centering; quick to install and no special tools are required
Prevents turbulent flow at flanged connections
HCS Washer System
As part of the development of the VCFS Firesafe gasket we had to overcome the potential of the loss of bolt load during the burn process of the API 6FB test. Therefore we developed the new X37 hardened coated steel washer system that withstood those demands.
The coating is a proprietary formulation called X37
The formulation consists of a corrosion resistant pre-treatment and multiple coats of a resin bonded modified PTFE coating with hardening agents.
The formulation provides a high dielectric, lubrication, and an overall strong and durable coating.
Dielectric of ~ 1000 Volts/mil