Magnetized Pig
A magnetized pig is used in pipelines to remove ferrous debris, including corrosion product, old construction debris, welding rods and electrodes. These specialized pigs are fitted with powerful magnetic packages in an innovative multi-pole design, which provides a huge magnetic field across a vast surface area to ensure exceptional pick-up and hold capability. Magnetized pigs can also be used to set off non-intrusive pig signaller detection devices.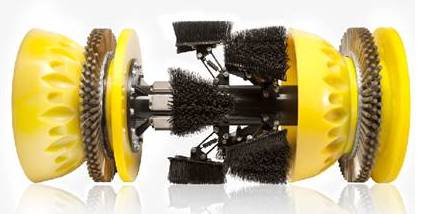 Magnets can be added to basically any steel body pig. It helps to significantly reduce cleaning programmes while providing superior pipeline cleanliness. Our magnetic cleaning pigs are available for pipelines ranging from 6 inches and above.
A magnetized pig usually has a steel body, which has magnets attached to it, four urethane disks or cups, urethane spaces, and a shock absorbing nose plate just before the rear locking plate.
Drinkwater Products stocks a range of steel body pigs that can be configured to ensure maximum cleaning, sweeping and sealing power. Mandrel pigs can travel across long distances, and they have replaceable urethane parts which makes them the most economical option for pipeline operators.
Additionally, Drinkwater Products supplies magnetic circuits for use in spherical pigs, cast urethane pigs, and polly pigs.
Need assistance in choosing a magnetized pig? Let the expert pipeline consultants at Drinkwater Products assist.
 -----
Image c/o Enduro