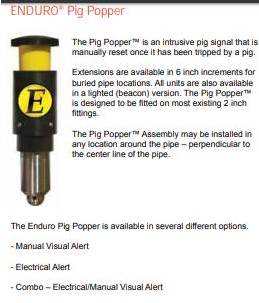 Drinkwater Products offers pipeline pigs and pigging accessories from a variety of manufacturers, including Enduro Pipeline Services, giving you access to the full range of pig options under one roof. Our team of experts has the knowledge and experience to help you choose which pig is right for your specific application. Whether it's a foam pig or a steel mandrel pig, Drinkwater will help guide you to the right pig for your job. 
About Enduro Products and Services
Enduro Pipeline Services are manufacturers of a wide range of pipeline products, which Drinkwater Products is proud to stock. As a leading Canadian reseller of Enduro Pipeline Services, we carry a large inventory of stock, including pipe pigs and equipment for:
Pipe cleaning
Inline inspection
Tracking, and
Analysis.
One of the reasons we chose Enduro, is because the company shares the Drinkwater philosophy of consistently high quality products and after sales services. 
Enduro Products and Services: Featured Products at Drinkwater 
The Enduro Wireless Geophone detects pig movement by sound amplification of normal noises created by pig passage. The Geophone unit can be placed on the ground or attached to exposed piping such as valve settings, vent pipes, and more.
The Enduro Pig Popper is an intrusive pig signal that is manually reset once it has been tripped by a pig. The Enduro Pig Popper is available in several different options. Manual Visual alert, Electrical alert and Electrical/Manual Visual alert. Extensions are available in one foot increments for buried pipe locations. All units are also available in a lighted version. The Enduro Pig Popper is designed to be fitted on most existing 2" fittings.
Need Help With Enduro Pipeline Services products?
Some manufacturers prefer to track their own pigs, while others prefer to leave it to the experts who do it on a daily basis. 
Drinkwater Products now offers pig tracking services and DGPS survey services to further enhance the customer experience.  The integration of pig tracking and survey services with our fleet of pipeline pigging products provides you with a truly turnkey service from one vendor for your pigging program.
The Drinkwater Products crew will not only supply you with your pipeline solutions from Enduro Pipeline Solutions, but we will also track your pigs during their run, providing regular updates on their progress. 
This service includes the delivery of a full run report record, including pig speed, distance, AGM locations and passage times.
Now you don't have to worry about a thing. Between Drinkwater Products and Enduro Pipeline Services, we've got you covered. Speak to Drinkwater Products about our customizable or turnkey pig tracking service to meet your specific needs.